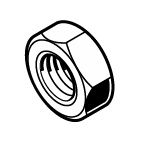 Regular Finish Nuts
Available Sizes
GRADE 5 COARSE MED. CARBON CLEAR ZINC CR+3
GRADE 8 COARSE MED. CARBON YELLOW ZINC Cr6
CLASS 8 DIN 934 ZINC CR+3
CLASS 10 DIN 934 ZINC CR+3
304 GRADE STAINLESS
316 GRADE STAINLESS
OTHER TYPES OF STAINLESS
METRIC A2 AND A4 STAINLESS
Download the data sheet for Regular Finish Nuts
Download the complete set of data sheets for all Nuts
---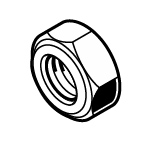 Nylon Insert Lock Nuts
Available Sizes
LOW CARBON ZINC CR+3
GRADE 8 COARSE MED. CARBON ZINC-YELLOW Cr6
CLASS 8 DIN 934 ZINC CR+3
CLASS 10 DIN 934 ZINC CR+3
304 GRADE STAINLESS
316 GRADE STAINLESS
OTHER TYPES OF STAINLESS
METRIC A2 AND A4 STAINLESS
Download the data sheet for Nylon Insert Lock Nuts
Download the complete set of data sheets for all Nuts
---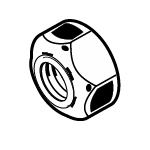 ---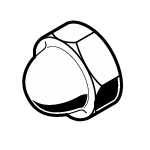 ---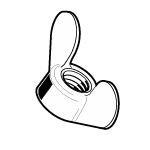 ---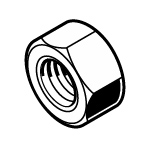 ---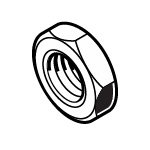 ---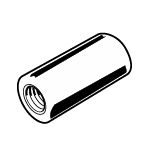 ---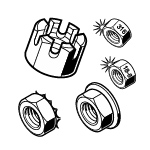 Other Types of Nuts
Available Sizes
There are lots of nuts in this world. We have many varieties in stock:
Flange Hex Nuts, Castle Nuts, Slotted Hex Nuts, Acme Nuts, Tee Nuts,
Spring Nuts, Anco Lock Nut, Panel Nuts, Flexloc/Slotloc Nuts, and
Square Nuts.
Plus, we have nuts like A194 nuts, 2HM nuts,L7 nuts, and more.
Download
the data sheet for all other types of nuts.
Download
 the complete set of data sheets for all Nuts